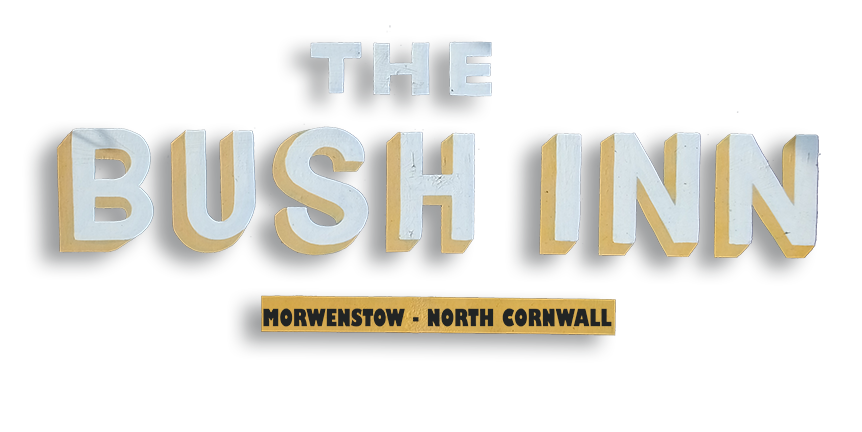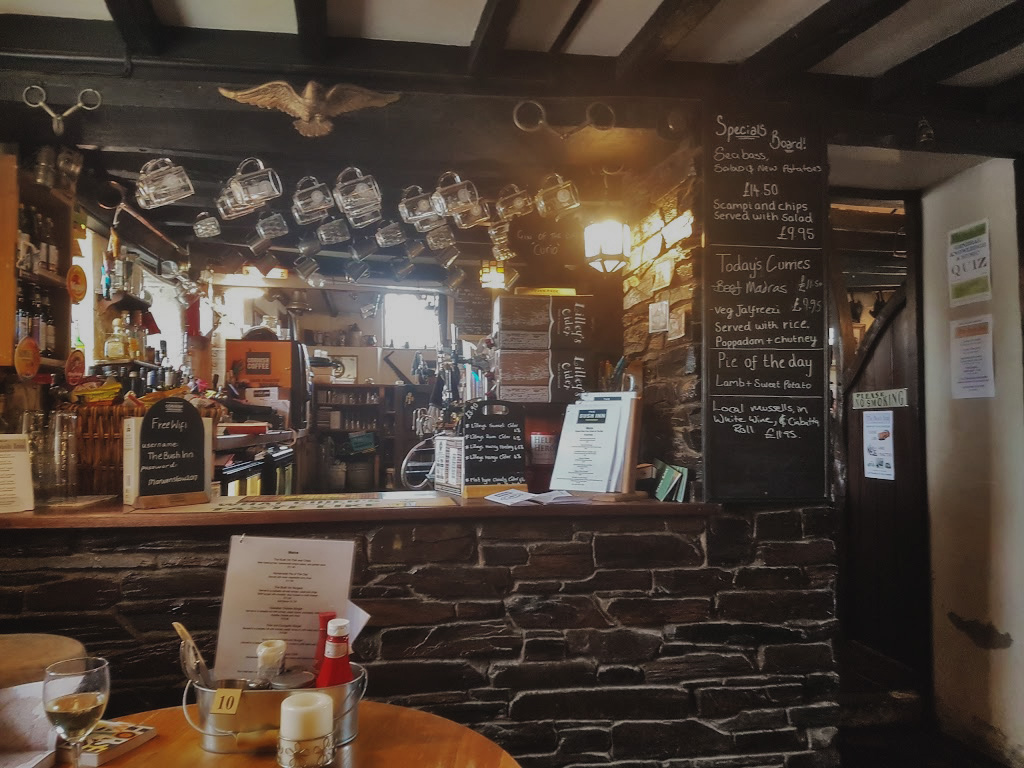 If its great food and drink that you are after then you don't have to go any further than right here at The Bush Inn.
We are serving scrumptious home made food, which is locally sourced and served to you throughout the day.
The Bush Inn Fish and Chips
Beer battered fish, homemade tartare sauce, and garden peas
£11.95
The Bush Inn Burgers
Served in a ciabatta roll with tomato, salad and chips
Beef burger with cheddar, blue cheese or chilli cheese
£12.95
Add Bacon
£1.75
Steaks
Cooked as you wish, served with a choice of creamy mash or chips, roasted baby tomatoes, mushrooms and leaves and onion rings
From £16.95
First & third Sunday of the month - Acoustic Folk Session 6pm
Live Music - Last Saturday of the month 8.30pm
​
You can find us at Crosstown, in the parish of Morwenstow, near Bude in North Cornwall.
We are a 13th Century country pub, riddled with history and intrigue. Whatever the weather you can come inside, soak up the atmosphere and keep warm and cosy by the open fire in Winter. In the Summer you and the children will enjoy the outdoor seating and play area in our beer garden with beautiful sea views.
We are open all day long, all year round. Serving tasty food (see current serving times) and real ales as well as other delicious beverages all the way until closing time.
Whether you are looking for a midday snack, an evening meal or a great night out at the weekend, why not pop in and say hi!
BOOK A TABLE
Phone: (01288) 331242
CONTACT US
Email: thebushmorwenstow@outlook.com
LOCATION
Crosstown, Morwenstow, Bude,
Cornwall, EX23 9SR
​
Monday 12pm - 8pm
Tuesday 12pm - 8pm
Wednesday 12pm - 8pm
Thursday 12pm - 9pm
Friday 12pm - 9pm
Saturday 12pm - 9pm
Sunday 12pm - 8pm
Residents breakfast served from 8am to 10am Monday-Saturday
9am to 10am Sunday
PUB OPENING HOURS:
Thursday - Saturday 12 - 11pm
Sunday - Wednesday 12 - 10.30pm
​
Live Music first & third Sundays of the month and last Saturday
Fresh scrumptious home made food served daily
Wide selection of drinks, with or without alcohol, on offer for you to enjoy.
Tel: (01288) 331242 | Email: thebushmorwenstow@outlook.com
We warmly welcome you to our family pub
Real Ales: St Austell HSD and Tribute plus a guest ale from the Forge, Tintagel, Otter, Exmoor and other breweries. Ciders: Rattler, Thatchers Gold and Haze plus at least one guest cider from the South-West.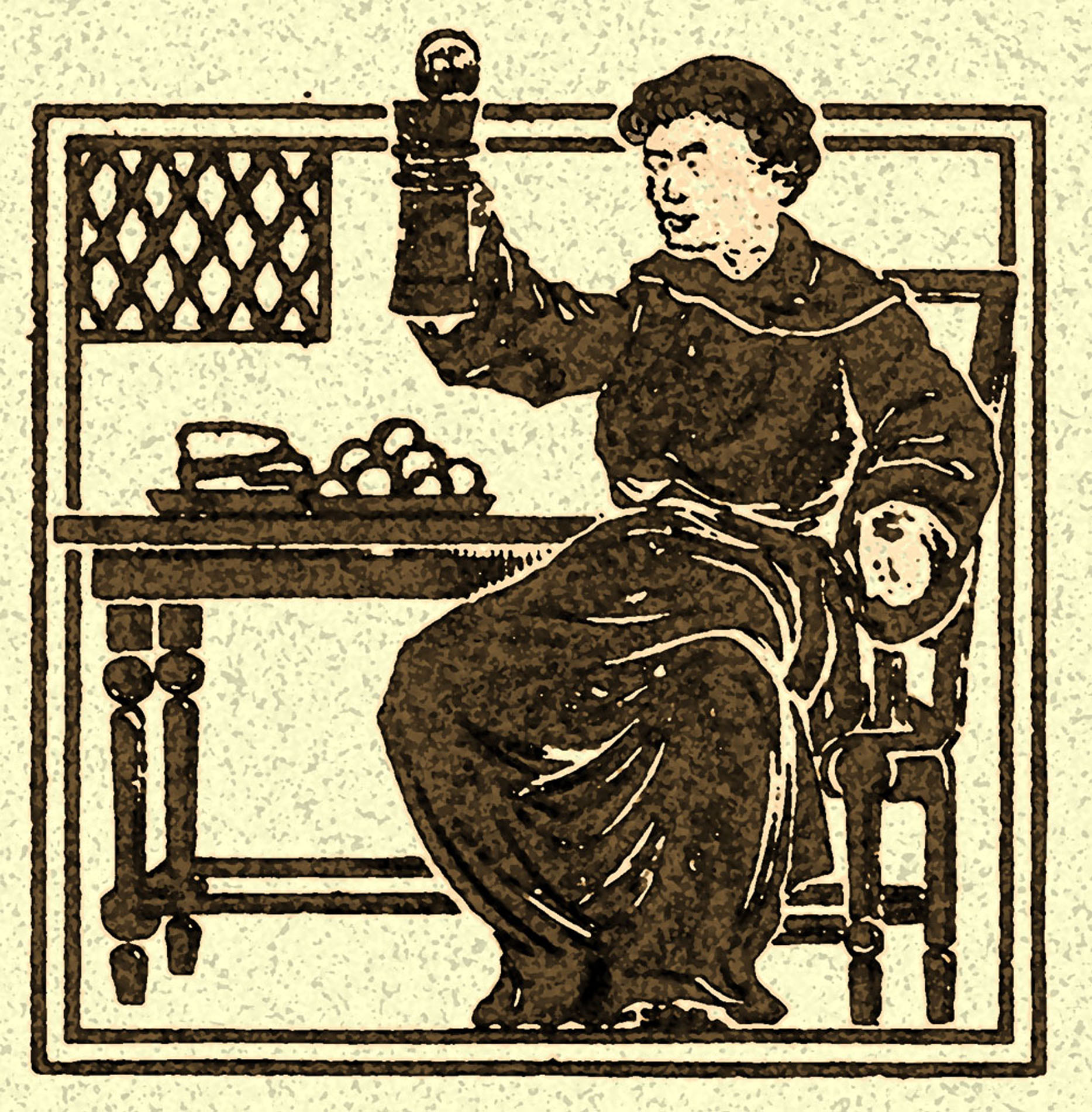 Take a look at What's On at The Bush Inn - We have a fantastic line-up of events throughout January/February. Sunday 6th January – 6pmTHE ACOUSTIC FOLK Wednesday 9th January– 8.30pmMUSIC & GENERAL KNOWLEDGE QUIZ Sunday 20th January – 6pmSTEAM ROCKET - Rock'n'Roll Trio Wednesday 25th January– 8.30pmMUSIC & GENERAL KNOWLEDGE QUIZ Sunday 3rd February – 6pmTHE ACOUSTIC FOLK Wednesday 6th February – 8.30pmMUSIC & GENERAL KNOWLEDGE QUIZ Sunday 10th February – 6pm'ALL AT C' - Massed Ukuleles! (TBC) Sunday 17th February – 6pmWESTERLY 5 OR 6 - Amazing local Folk group Wednesday 20th February – 8.30pmMUSIC & GENERAL KNOWLEDGE QUIZ
Our trusty band of folkies will delight you with a selection of traditional songs and tunes. If you play an instrument, feel free to come along and join in!
Gen. Knowledge & Music QUIZ
Rob and Jer's fortnightly feast of useless information continues with another evening of confusion and merriment. Dates in What's On section. One pound entry per person - all proceeds to charity.
PLEASE NOTE: WE ARE closed on Mondays for the rest of January and the first two Mondays in February
​